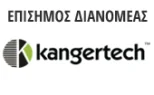 KANGER
Clearomizer CE4 by Kanger
Coil made by Ni200 wire for Subtank atomizers ready to be used by devices that support temprature control.
Replaceable coil with japanese cotton for Aerotank, Aerotank Mega, Aerotank Mini, Evod 2 and Protank 3.
Free shipping | B2B Europe For purchases from 999€
Standard Shipping Cost | B2C Europe 11.10 €
Do you need help?
Contact us
Payments & Secure
Secure and easy payments